1 0 x 1 0 " S t a n d a r d " K i t c h e n ? ? ? ? ?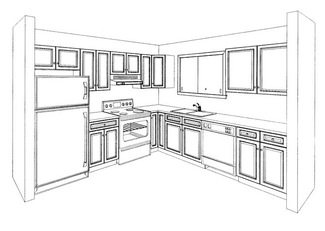 You see it in DIY Warehouses, you see it on print ads in your magazines, you may even hear it on radio or TV commercials. Virtually every ad for kitchen cabinetry or kitchen remodels will post tantalizing prices based on the "10ft. x 10ft. Kitchen".
What the heck is a 10 x10 kitchen anyway …... and why is it used everywhere in advertising? More importantly............... why isn't the price of a finished kitchen anywhere near the price shown in the ad?
A little background. Here's how it was, and is, sold to the "public". With the nearly endless options that cabinet design entails, there became a desire for companies to compare prices of cabinetry to a standard "model". Here's what's behind the curtain. Marketing genius' set out on a quest to advertise efficiently and consistently while at the same time, present their product at the lowest possible price to "capture" the consumer.
The result; a "standard" or "typical" 10 x 10 kitchen was born. This "base" model is the starting point for nearly all pricing scenarios and, unfortunately, almost everything a homeowner would want or need in their kitchen is an add-on to this "base price". This includes things you'd think went along with all cabinetry like................... hardware, moldings, and the craziest one of all, installation! Go Figure. To make matters worse, those who desire products of higher quality will quickly find that's an add-on also.
Basically, a 10 x 10 kitchen consists of 2 – 10 foot walls that meet in the corner. On each of these walls are a combination of cabinets and appliances found in most American households (refrigerator, range, dishwasher, window, and sink). 10' walls were chosen so the total cabinet price could easily be divided by 20 to get a price-per-foot.
The theory is, the more diligent homeowners will figure the price-per-foot and loosely calculate a cost for their own kitchen. The reality is, because so many items (including installation) and options are not anticipated by the homeowner, their estimate (which may sound good enough to visit the showroom) will fall well short of the final tally. The less diligent homeowner will see photos of the magnificent "real world" kitchen, look at the price of the 10 x 10 kitchen, believe that is what they are getting and immediately jump in the car to visit the showroom where highly effective sales-people are trained to close deals. Either way, those marketing guys did their job as both types of consumers are "captured" by this advertising.
There's no denying it, the 10 x 10 marketing efforts work well; so if you find yourself shopping for cabinetry, keep this article in mind, ask a lot of questions and read the fine print.
I've included a few
drawings
and
cabinet list
for a "typical" 10 x 10 Kitchen; see how it compares to your kitchen.
---